Filmcast PTFE has historically been limited to a maximum diameter of around 0.100", which restricted the option for larger French size aspiration catheters. Confluent was able to break through that threshold and currently offers PTFE ID sizes from 0.010" to 0.137" and up to 0.155" on a limited basis with lead times of 4 weeks or less. This latest development provides customers with more options for thin-walled, flexible PTFE liners at these larger diameter sizes.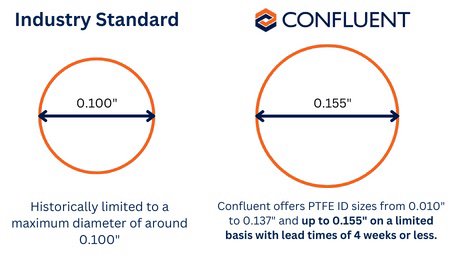 PTFE is extremely beneficial in medical device manufacturing for a number of reasons, including its lubricity, low surface energy, biocompatibility, chemical resistance, extreme temperature tolerance, and ability to be readily sterilized.
Compared to ram extruded PTFE, filmcast PTFE can be manufactured to hold thinner wall thicknesses and tighter tolerances. Since Filmcast PTFE is coated over a mandrel, it is extremely well suited for the addition of a thermoplastic strike layer to promote adhesion. In addition, since it is done in a continuous spool-to-spool manner, it is extremely cost effective. Confluent's filmcast PTFE can be provided in discrete cut-to-length pieces or on a spool.
Confluent offers filmcast PTFE in lead times of 4 weeks or less, depending on quantity and construction. For a custom quote or to learn more about our Precision Polymer Tubing capabilities email [email protected]