Confluent Medical offers multiple stent covering services, including expanded PTFE (ePTFE) coating, thermoplastic urethane (TPU) coating, and polymer laser cutting. PTFE is a high-tensile strength, biocompatible polymer used in a wide variety of applications, and thermoplastic urethanes (TPUs) are one of the most common materials used for medical device coverings. Confluent is proud to offer polymer stent covering technology to support our Nitinol Stent capabilities and our customer's specific device applications.
PTFE Coating Capability
Expanded PTFE (ePTFE) is a microporous material often utilized for coatings due to its ability to stretch and deform into various geometries while maintaining a high strength-to-weight ratio, making it ideal for use in the medical device industry. Applications for ePTFE include encapsulation of Nitinol, Cobalt-Chromium, and Stainless Steel balloon expandable stents and meshes.
Coating parameter ranges

IND (Internodal Distance): 30um – 100um
Thickness: 100um – 250um
Crystallinity: Low, Medium, High

Current ranges for device coating applications.

Length: 20mm – 300mm
ODs: 2mm – 25mm
Numbers are not all inclusive. Please reach out to discuss your unique applications.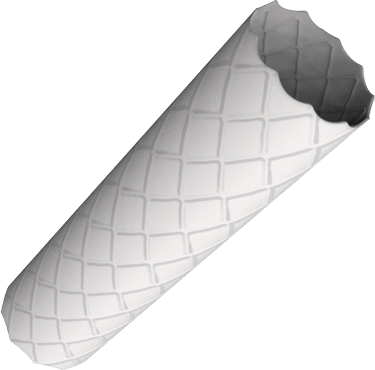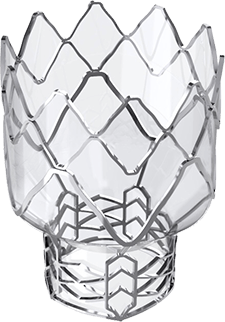 Dip Coated Polyurethane Capabilities
Thermoplastic Polyurethanes (TPUs) are used to form porous and non-porous medical device coverings. There are many commercially available formulations which offer a range of mechanical properties, making them a versatile class of materials.
TPUs can be dissolved in a solvent and dip cast over a stent or mandrel to form a membrane coating, offering a quick and cost-effective manufacturing process.
Applications

Embolic Filters
Clot Retrieval
Flow diversion
Peripheral stent grafts
Intra-bronchial Valves
Non-vascular Stents

Current size/thickness ranges. Numbers are not all inclusive. Please reach out to discuss your unique applications

Length: 10 mm – 75 mm
Diameter: 1 mm – 45 mm
Wall Thickness: .001″ – .004″ (25 – 100 μm)
Polymer Laser Capabilities
Confluent utilizes a 515 nm wavelength (Green) ultrafast Femto-Second Pulsed Laser to process polymers. Short wavelength ultrafast lasers create small precise features with minimal peripheral heating.
Ability to create precisely micro-machined holes, cuts, skives, textures, and/or ablated surfaces.
Capable of producing details to 50 μm and ablating surface from 2 μm-500 μm depth
Working Scan field of 25mm x25mm
Automated motion with programmable rotary and Z axis
Capable of automated laser serialization

Alpha/Numerical
Dot Matrix
Barcode

Fully Enclosed Class 1 system with HEPA Filtration
Applications:

Irrigation holes in balloons & tubing
Shaft Ablation
Surface roughing for adhesion bounding
Distal and proximal neck turning balloons, catheters, and tubing
Form cutting
Indicating marks for positioning or aligning