Since 2010, NDC has produced high-performing interventional guidewires for peripheral vascular, cardiovascular, endovascular, gastrointestinal, neurovascular and urology applications. Manufactured at NDC Costa Rica by a dedicated team of experts, NDC not only offers OEM production capability for customers, but also can provide a line of private label guidewires designed internally at NDC. These private label guidewires provide customers with the unique opportunity to add a new product to their portfolio with no significant R&D expenses, no capital investment and no regulatory hurdles, generating incremental revenues in a matter of months.
NDC's guidewires are designed to provide rapid access, smooth tracking, easy advancement and maximum maneuverability. Their superior performance can be attributed to proprietary coating processes, resulting in highly durable and lubricious guidewires that are kink-resistant. When tested against market-leading guidewires, NDC demonstrated superior torque response and equivalency in coating performance, jacket toughness, tip flexibility and tip toughness.
Mitchell Tatum, Vice President Guidewire R&D noted, "NDC's team of guidewire experts in Costa Rica work together with customers to produce the highest quality interventional guidewires available. As vascular interventional procedures continue to increase in both volume and complexity, NDC is able to manufacture competitive cost, high-performing hydrophilic guidewires that perform well in complex anatomies and in less than ideal conditions."
If you'd like to see NDC's Guidewire bench testing results as compared to the market-leading guidewire, or if you'd like samples to perform your own bench testing, please contact [email protected].

Figure 1 – Torque Response Comparison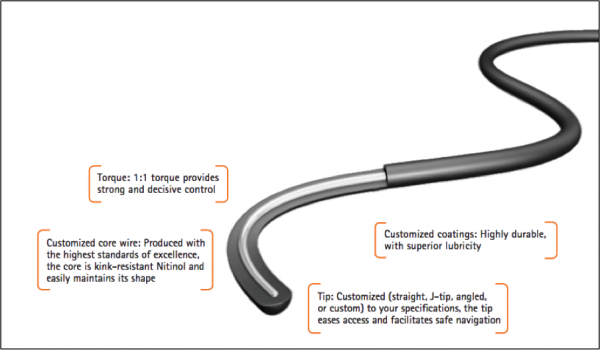 Figure 2 – NDC Guidewire Options