Confluent recently added advanced capabilities for 3-D and near net shape textiles with a Raschel Double Needle Bar knitter.  This investment will support advances in textiles in our target transcatheter Cardiac and Vascular markets.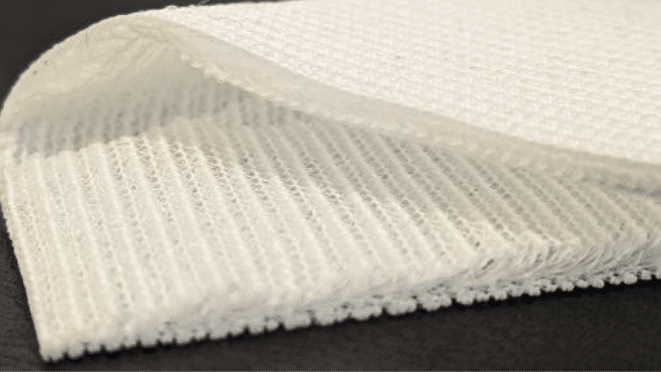 Transcatheter procedures have seen widespread adoption for the minimally invasive treatment of vascular and structural heart diseases, including Aortic or Mitral valve replacement and repair (TAVR & TMVR), Left Atrial Appendage Occlusion (LAAO), Aortic Aneurysm (TAA or AAA), and others. These procedures offer patients an alternate to surgical interventions, with shortened hospital stays and reduced recovery periods.
Within many of these devices, medical textiles form critical components to performance and long-term stability. Woven and Knit implantable fabrics are commonly used for:
Blood Impermeable Barriers
Scaffolds for tissue ingrowth and anchoring
Sewing rings
Conformal/Compressible seals or pads
Confluent's investment in the Double Needle Bar knitting capability enables new solutions utilizing 3D textile structures for transcatheter vascular and structural heart devices. Solutions enabled with this technology include:
Seamless Knit Tubes

Near-net shape skirts for heart valves with tailorable thickness, pore size, and elasticity.

Textured "Terry" Knit Textiles

Compressible textiles with a textured surface to adapt to irregular anatomies, while maintaining compatibility with minimally invasive delivery.

Spacer Fabrics

3-D knits with two face textiles and a highly porous core, to conform with the anatomy or provide a barrier to metal components to minimize tissue damage.
Warp knit structures are created by forming yarns into a series of interlocking, aided by knitting needles to continuously wrap and shed the loops. The term "Double Needle Bar" literally means the knitting machine has two independent sets of needles, each capable of independently producing a flat warp knit fabric. With both bars operating in parallel, this machine is capable of creating seamless tubes, terry-knit (read as "fuzzy") fabrics, or compressible sandwich structures (knit spacer fabrics) linked together by a spacer yarn. Furthermore, with digital pattern control, properties of the knit may be locally tailored to optimize performance in different areas of a device and provide near-net shape geometries.
Each transcatheter device has its own unique set of performance requirements and design constraints. By engaging in the design process early on, Textiles Engineers can help identify the right structure and manufacturing processes to deliver innovating solutions and successful devices. Confluent's dedicated Technical Service Engineering team is available to help bring your medical device design to life. Email [email protected] for more information.