Confluent Medical Technologies Announces The Launch Of Their New Polymer Webshop Offering 1-2 Day Lead Times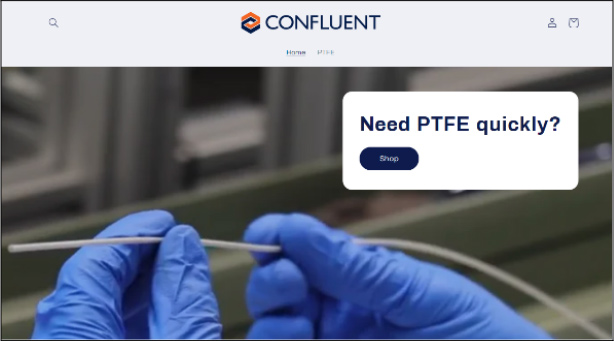 (Scottsdale, AZ)- Confluent Medical Technologies (Confluent), today, announces the launch of their new Online Polymer Webshop. This new webshop offers PTFE Liners, REACH Compliant Polyimide, and additional Polymer offerings within a 1-2 day processing time.
The products listed on the webshop are on-hand materials that require no customization allowing a 1-2 day processing time. The development of an online store for PTFE Liners mitigates the current lead time situation for these lubricious liners and provides the industry with a much needed solution.
"We understand that the industry is struggling to supply PTFE Liners in a timely manner," stated Jill Ellison, VP of Operations for Confluent's Polymer Tubing Center of Excellence. "This new webshop allows us to supply the most common sizes of Filmcast PTFE Liners and additional in-demand Polymer products to our customers in the quickest way possible."
Confluent currently offers custom Filmcast PTFE Liners with ID sizes from 0.010" to 0.155" in 4 weeks or less. Confluent announced their latest REACH Compliant Polyimide capabilities earlier this month proving a solution to the EU's Medical Device Regulation.
About Confluent Medical
Confluent Applies Materials Science to MedTech Innovation. Confluent specializes in the expert design, development, and large-scale manufacturing of interventional catheter-based devices and implants. Customers rely on Confluent's expertise in Nitinol material and components, balloon and complex catheters, high-precision polymer tubing, and implantable textiles. With facilities in Fremont and Orange County, California; Warwick, Rhode Island; Windham, Maine; Austin, Texas; Chattanooga, Tennessee; and San Jose, Costa Rica, Confluent has earned the confidence of the leaders in the medical device community through a proven track record of innovative materials science, engineering, and manufacturing. For more information, visit confluentmedical.com.
Media
Brittany Mai
[email protected]